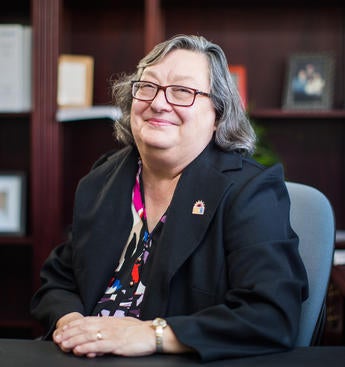 Contact Information:
Cynthia K. Larive
4148 Hinderaker Hall
(951) 827-1129
provostadmin@ucr.edu
Twitter: @cynthialarive
About the Provost and Executive Vice Chancellor
Cynthia K. Larive was appointed as Provost and Executive Vice Chancellor of the University of California Riverside on October 24, 2017.
As the Provost and Executive Vice Chancellor, Larive serves as the chief academic and operating officer for the campus, providing academic leadership to the entire university, managing day-to-day operations of the campus, overseeing resource allocation, and serving as a member of the campus leadership team. In the chancellor's absence, the provost serves as the chief executive officer of the University of California, Riverside. The Provost/EVC is responsible for implementation of the campus strategic plan, UCR 2020: The Path to Preeminence.
Larive is an experienced administrator and respected scholar, and previously served as vice provost for undergraduate education and interim dean of the College of Natural & Agricultural Sciences. She joined the UCR faculty in 2005 as professor of chemistry, a department she chaired in the 2012-13 academic year. She then served as divisional dean for physical and mathematical sciences from 2013 until 2016. Larive is a fellow of the American Association for the Advancement of Science and the American Chemical Society, serves an Associate Editor for Analytical Chemistry, and has received campus and national recognition for her research and leadership.
Before arriving at UCR, Larive was a professor of chemistry at the University of Kansas, where she began what has become a productive and successful research career. She has received funding from the National Science Foundation, U.S. Department of Agriculture, Environmental Protection Agency, and a range of foundation and corporate grant makers.
Larive is a first-generation college graduate, having earned her Bachelor of Science degree from South Dakota State University and master's degree from Purdue University, both in chemistry. She received a doctorate in analytical chemistry from UC Riverside in 1992 under the mentorship of now-Emeritus Distinguished Professor of Chemistry Dallas Rabenstein, while raising two young daughters, Erin and Megan with her husband Jim.
Larive joins one of the most diverse higher education leadership teams in the nation and will oversee UCR's academic units as well as campus-wide efforts and initiatives including academic personnel, undergraduate education, international affairs, and administrative resolution.